The 20th Anniversary Captain Cook Hockey Tournament wrapped up March 4, 2018 at the Civic Centre in Corner Brook, Newfoundland.   Held during the 250th anniversary of Cook preparing his 'Chart of the West Coast of Newfoundland', the 24 teams vied for bragging rights and commemorative James Cook 250 maps of the island of Newfoundland. There were 24 teams in 5 divisions, including one ladies division.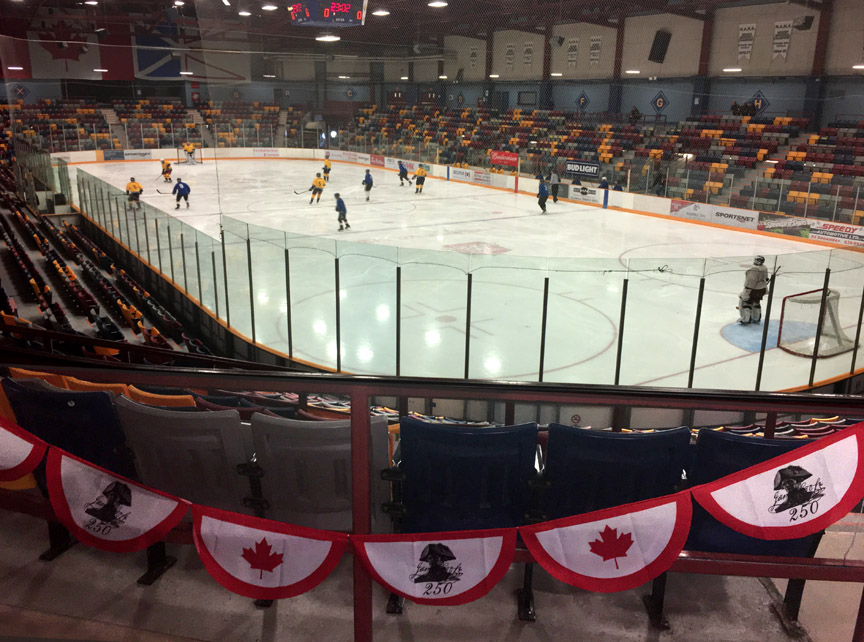 The event began as a tournament for men ranging in age from 30 to 70 and has evolved into one of the largest adult recreational hockey tournaments in Atlantic Canada.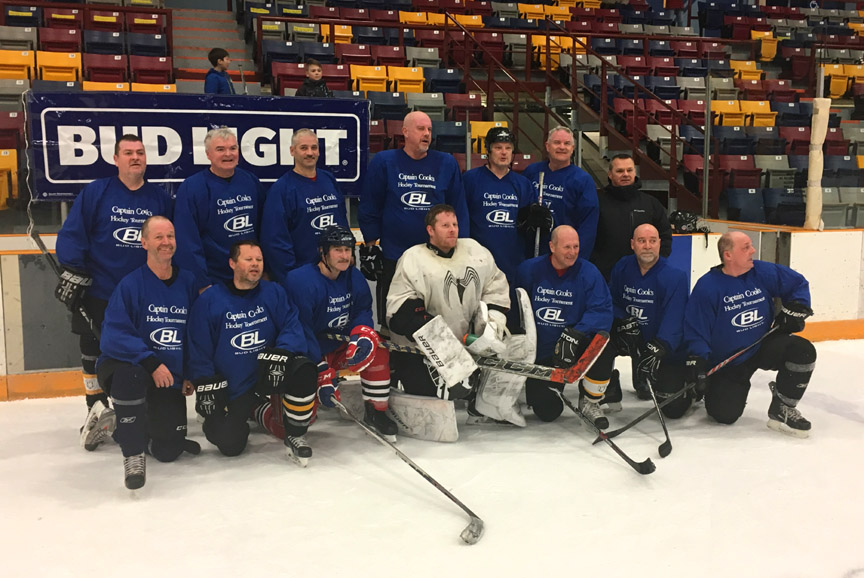 The winning team from the Men's 50+ Division
In recent years the tournament also includes a division for women, which are playing hockey in increasing numbers.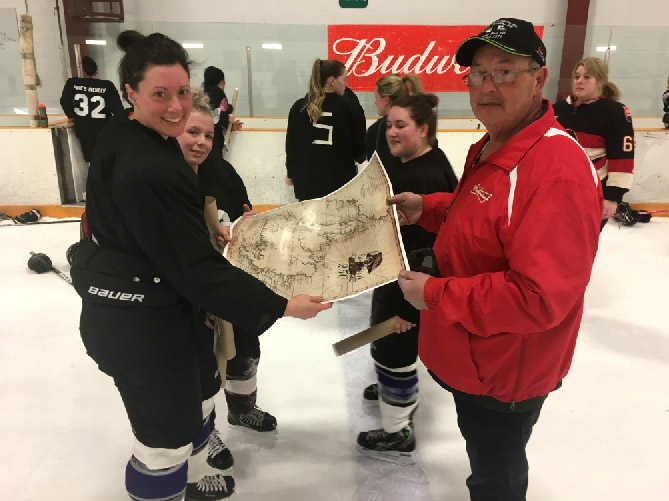 The female winners accept commemorative Cook maps of Newfoundland from organizer Cliff Toope
Sponsored by over 100 businesses, the tournament has made over 112 donations to 63 charities since 1999.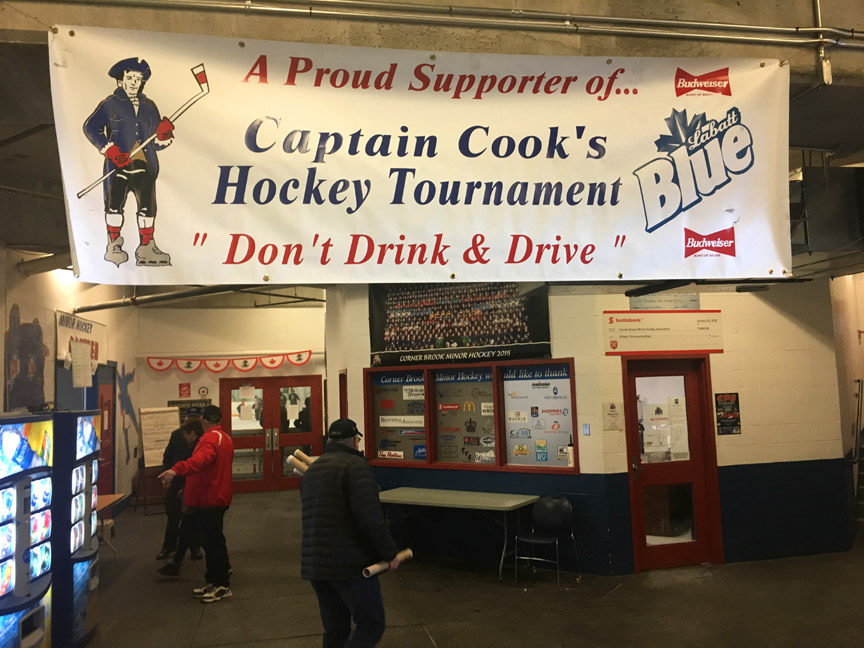 Each year a commemorative booklet provides the list of sponsors and teams, as well as the story of James Cook in Western Newfoundland.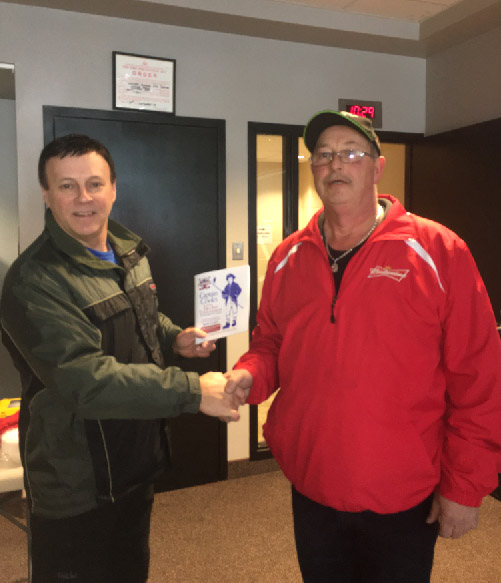 Paul Wylezol of Cabox Geopark (left) receives a commemorative booklet from tournament organizer Cliff Toope
This year's version of the tournament is especially noteworthy, as 2018 marks the 250th Anniversary of James Cook completing his 'Chart of the West Coast of Newfoundland' and his selection by the British Admiralty and Royal Society (based on his 5 years of surveying the island) to command a voyage to the Pacific Ocean to witness the transit of Venus and search for the fabled southern continent.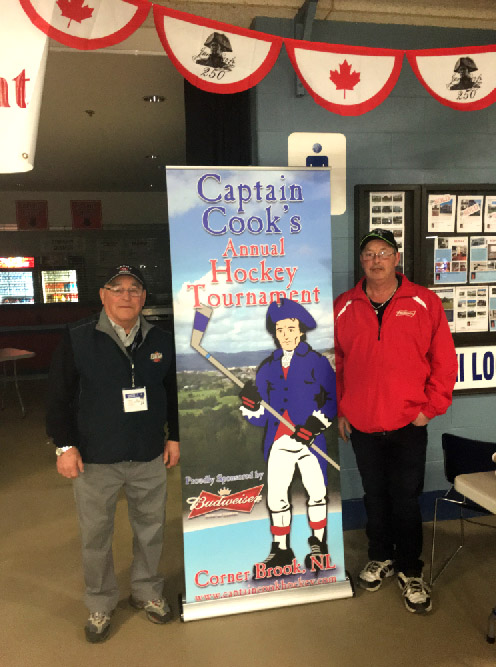 Two of the 14 committee members, Jim Roche (left) and Cliff Toope stand next to a tournament banner
Like James Cook's surveys and charts of Newfoundland, this year's 20th anniversary event was a well-run highly successful event, which bodes well for the future of the Captain Cook Hockey Tournament.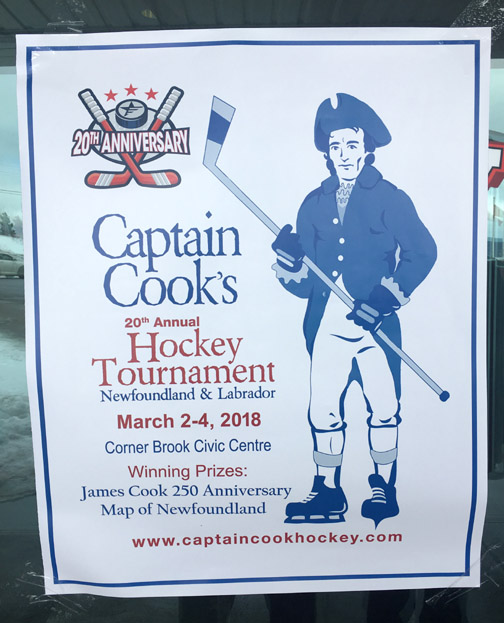 For more on the tournament, go to www.captaincookhockey.com