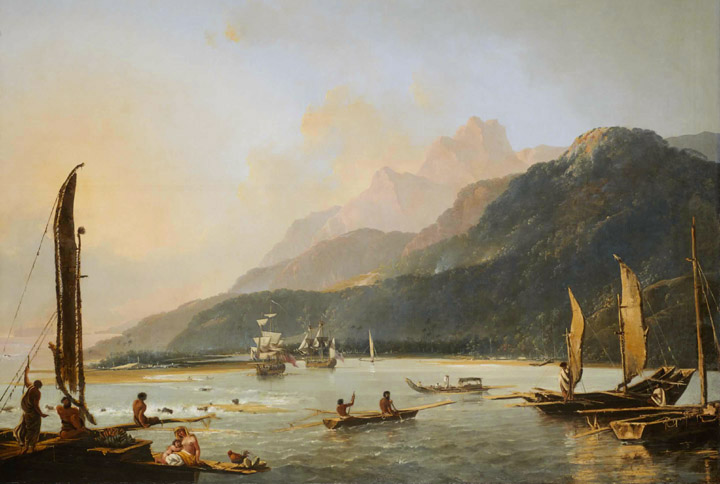 Resolution and Adventure in Matavai Bay, Tahiti, William Hodges, 1776
Circumnavigating Antarctica
By John Robson,  Writer and President of Captain Cook Society
The idea of the existence of a Great Southern Continent had still not been totally dispelled when Cook returned from his Endeavour voyage in 1771.   Cook believed he was the person to resolve the problem and submitted plans to the Admiralty.   He would circumnavigate the South Pole as far south as conditions would allow, and if land existed, he would find it.   The Admiralty agreed and appointed Cook, now promoted to Commander, to lead an expedition.   Two ships, renamed HMS Resolution and HMS Adventure, were bought and fitted out for the voyage.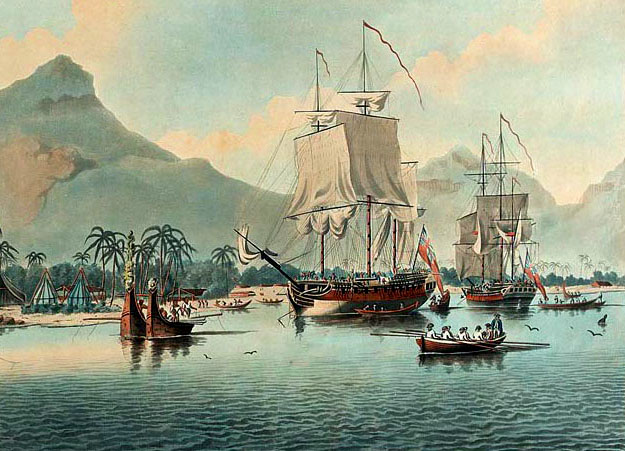 Resolution and Adventure at Huaheine,  Society Islands,  John Cleveley the Younger, 1787-88
Joseph Banks expected to sail again but demanded that extensive alterations be made to Resolution to accommodate him and his party.   This took time, delaying the voyage, but also making the ship unsafe.   Finally, the Royal Navy said no and had the ship returned to its previous seaworthy state.   Banks was angry and refused to sail.   Johann Reinhold Forster was taken on as scientist in Banks' place, assisted by his son George.   William Wales and William Bayly were appointed astronomers and William Hodges travelled as artist.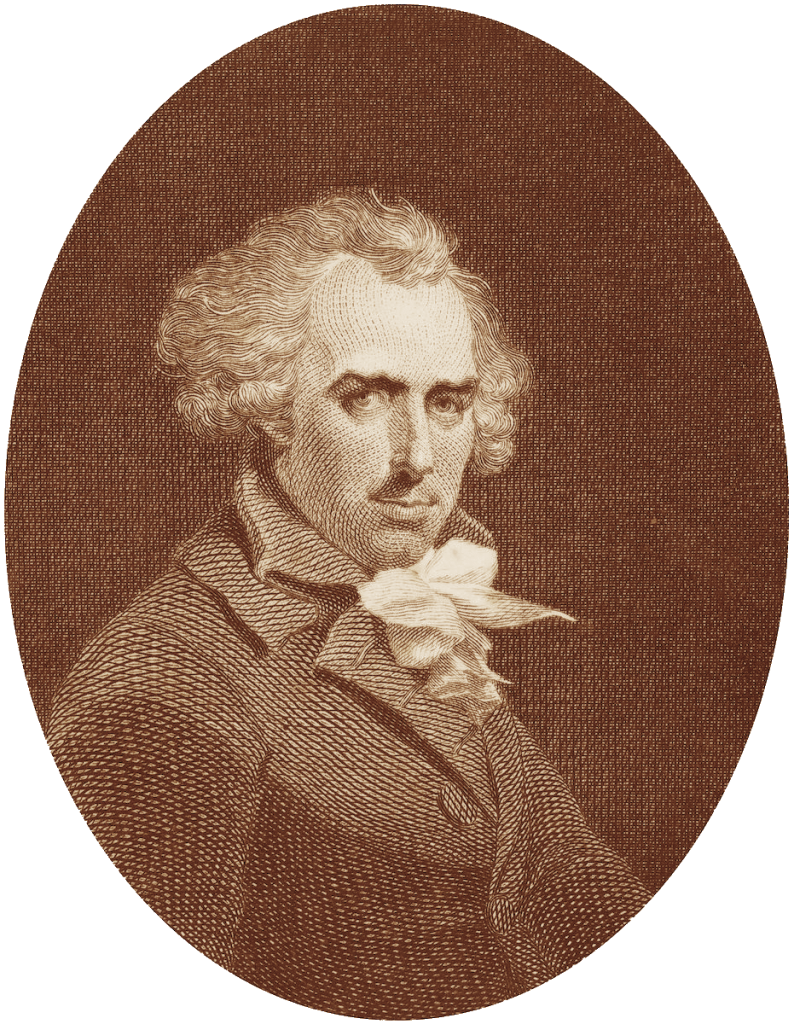 William Hodges Esq. RA, by Richard Westall, 1792
The experience of Endeavour on Barrier Reef had shown Cook the need for two ships.   The Resolution, under Cook, accompanied by the Adventure, captained by Tobias Furneaux, left Plymouth on 13 July 1772.   They sailed down the Atlantic together and reached Cape Town in October.   Continuing south, they looked unsuccessfully for land sighted by French explorer Jean-Baptiste Charles Bouvet in 1738-39.   In January 1773, Cook became the first person known to cross the Antarctic Circle before pack ice and fog blocked his way and forced him back north.   The two ships became separated but Cook sailed on, returning south and then east through more ice and fog.   In March, he relented and headed to New Zealand where he and his crew recovered for a month in Dusky Sound.  Moving on to Queen Charlotte Sound where he found the Adventure waiting.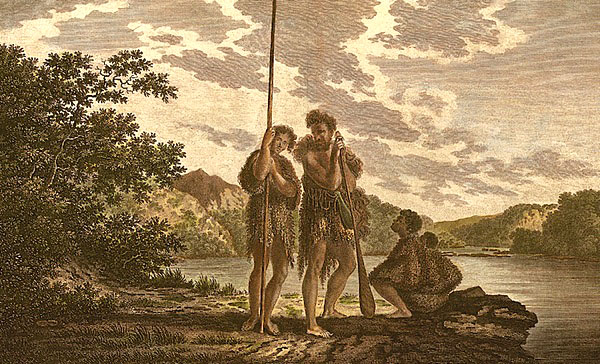 Maori Family, Dusky Sound by William Hodges
It was the wrong time of year to return south but Cook did not want to waste time and decided to explore the Central Pacific.   The two ships left New Zealand in June 1773 and sailed east for several weeks, finding no land, before heading north to Tahiti.   The island was short of supplies so Cook stayed only two weeks before sailing west.   Furneaux took a Raiatean man called Mai on board at Huahine.   The ships next reached the southern islands of Tonga where Cook was impressed by the people, though only remaining a few days.   As the ships approached New Zealand again, a storm separated them and Resolution reached safety by itself in Queen Charlotte Sound.   Cook waited for Furneaux for one month before continuing on, as he needed the warmer, summer conditions to again sail south.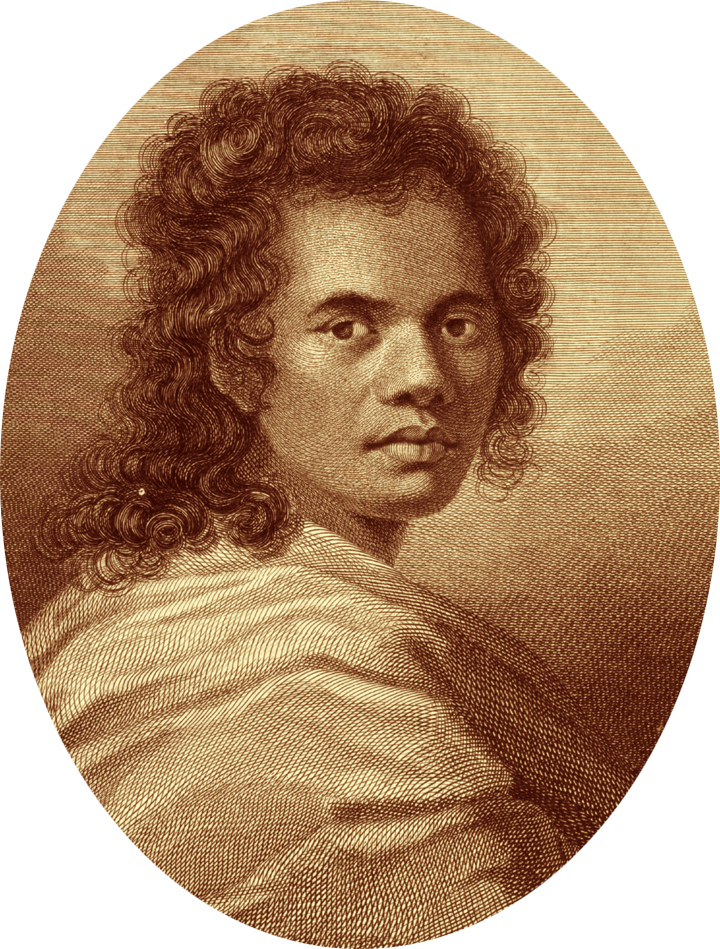 Mai, by William Hodges, Engraved by James Caldwall, 1777
Over the next three months, Cook ploughed through the Southern Ocean finding no sign of land.   He went south, crossing the Antarctic Circle on two occasions, before ice and cold drove him back.   He was convinced that land did, indeed, lie further south and was the source of the ice.   Cook became ill as they sailed north and in March 1774, Resolution reached Easter Island where it stopped briefly before sailing on via the Marquesas to arrive once more at Tahiti.   The island had recovered and this time the ship could be restocked.   After three weeks on Tahiti, Cook sailed west via Raiatea, Palmerston Atoll and Niue to arrive at the central Tongan Islands, north of his earlier visit.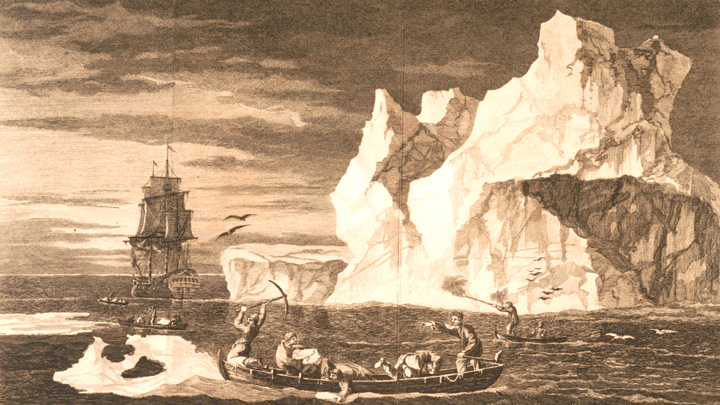 Ice Islands, 9 January 1773
The Spanish under Quiros were known to have visited islands in the western Pacific 170 years earlier, but their exact location was uncertain.   In July 1774, Cook arrived at these islands and proceeded to chart them in only a few weeks using a running survey.   It represented some of his best cartographic work.   He called the islands the New Hebrides, though they are now known as Vanuatu.   Cook landed on several islands but communication was difficult, as the people were different from those he met on other islands.   They were Melanesians, not Polynesians.   In September, Cook pressed on to the southwest and came to another island, which he called New Caledonia.   After three weeks there, he headed south for New Zealand and entered Queen Charlotte Sound.   There he founds signs that Furneaux and the Adventure had and gone.   Cook quickly stocked up with wood and water and set sail for home.   He crossed the Pacific and reached South America in time for Christmas, which was celebrated in Christmas Sound, Tierra del Fuego.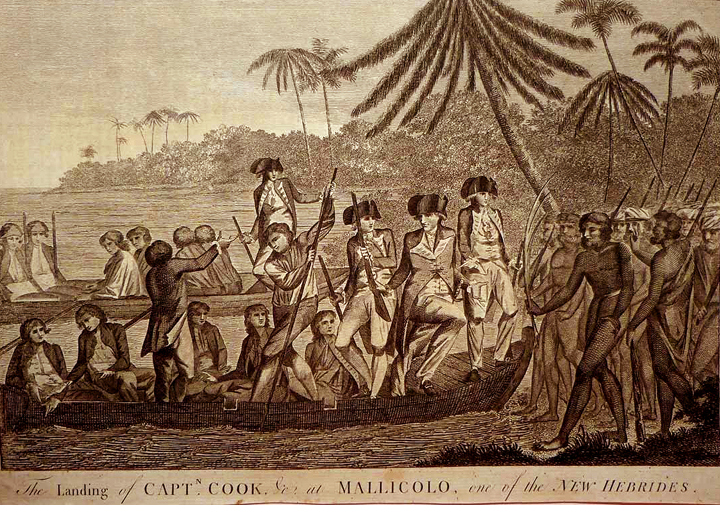 Cook Landing at Malakula,  Vanuatu,  William Hodges,  1785
Cook still wanted to check the South Atlantic so in early 1775 he landed on South Georgia, which was a cold and desolate island.   Nearby to the east, Cook found some other tiny islands, which he called the South Sandwich Islands.   Cook found no other land and headed for Cape Town.   He had circumnavigated the Southern Ocean near latitudes 55-60ºS and there was no large landmass, only a few small islands and a lot of ice.    Resolution sailed north in the Atlantic calling in at St. Helena, Ascension Island and the Azores before anchoring at Spithead on 30 July 1775. Cook learned that Adventure had arrived back safely the previous year and Mai had become a celebrity in London society.   Cook also learned that Adventure had lost 11 men at Queen Charlotte Sound in December 1774, killed by Māori.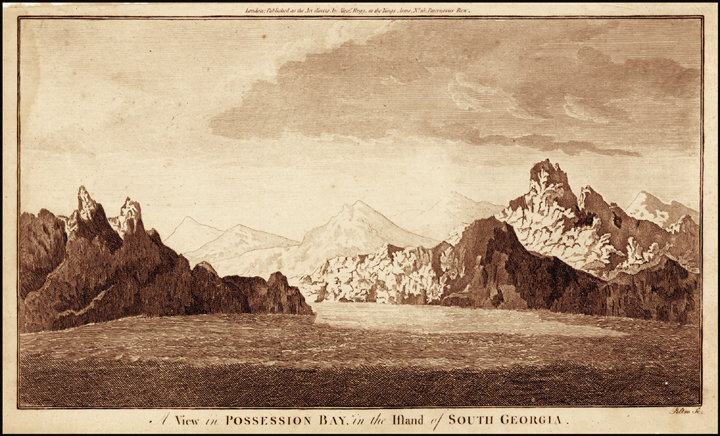 View of Possession Bay,  South Georgia Island,  Alexander Hogg,  c. 1780
The second voyage to the Pacific was a triumph for Cook and this time he received the acclaim of the general public.   It had been one of the greatest single voyages of exploration of all time.  The crew was healthy though Cook, himself, had been ill and was now ready for a long rest.   He had criss-crossed the South Pacific, locating many new islands and producing detailed charts of them all.   He had left no large landmass undiscovered and had shown that a Southern Continent could only exist so far south as to be completely uninhabitable.   The Forsters added much to scientific knowledge and Hodges returned with many paintings.   For the moment, Cook could retire and enjoy time with his family.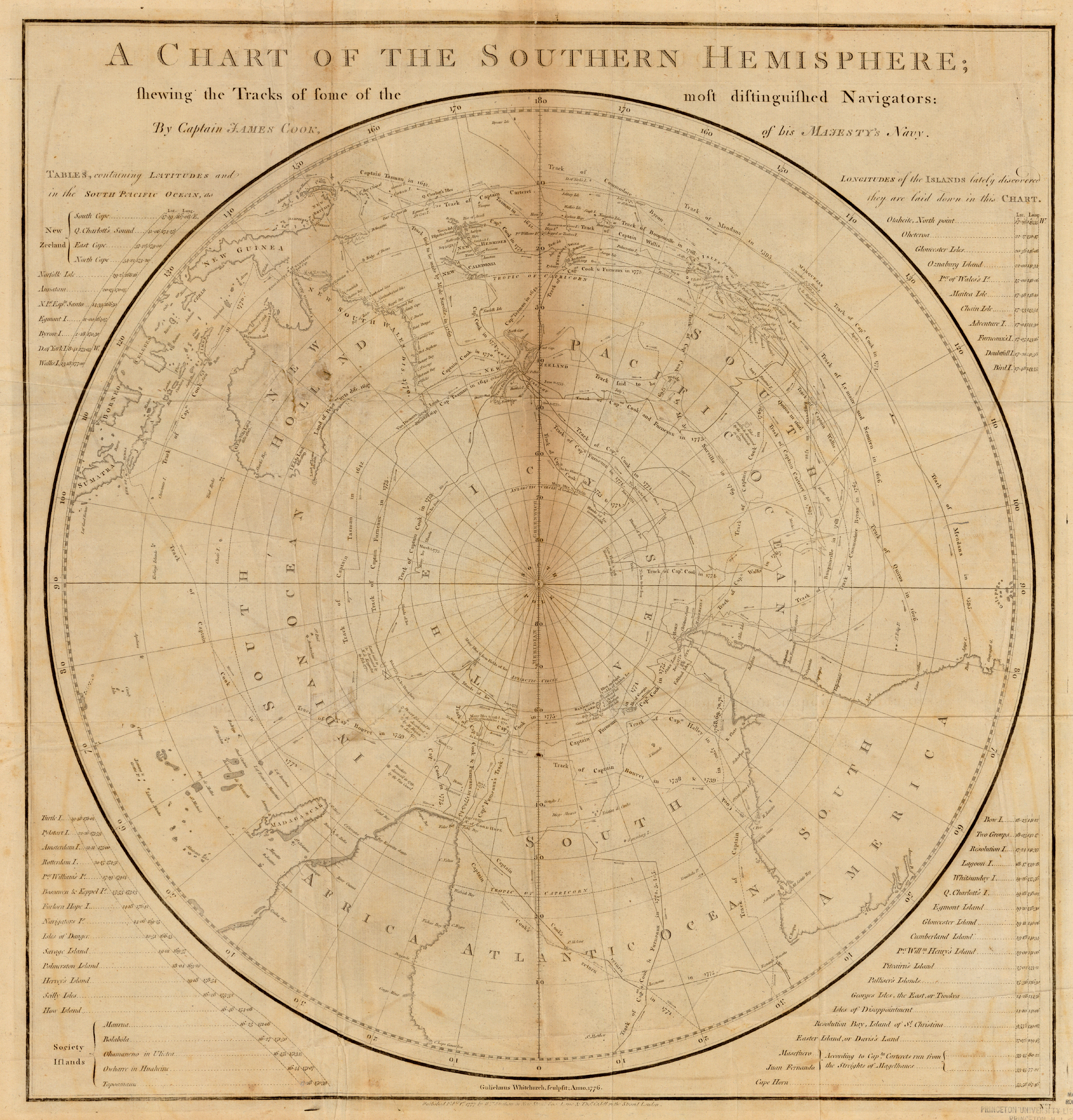 A Chart of the Southern Hemisphere (click to enlarge)
By Captain James Cook of His Majesty's Navy, Published Feb 1, 1777
.