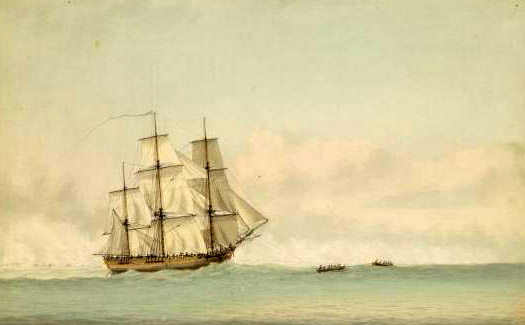 HMS Endeavour by Samuel Atkins c.1794
Lieutenant James Cook (he was not yet a Captain) began his first voyage to the Pacific Ocean on 26 August 1768 when his ship left Plymouth. It was the start of a three-year voyage that would totally change his life. Astronomers had calculated that a Transit of Venus would take place in June 1769. British scientists from the Royal Society argued that Britain should play its part and send people to different parts of the world to take observations. The Pacific Ocean was expected to be the best place to watch the Transit so the Society asked the Royal Navy for a ship to transport them there.
In a world first, all three of explorer Captain James Cook's handwritten journals from his three Pacific voyages will be on display together. The National Library of Australia's Endeavour Journal will be joined by Cook's two other journals, on loan from the British Library in London, to mark the 250th anniversary of the beginning of his three Pacific voyages.