A fascinating talk at James Cook Birthplace Museum on Saturday celebrated Marton born explorer, James Cook's early naval career in Eastern Canada but also offered a maple leaf to bring both sides of the Atlantic together in celebration of the great man's achievements.  Paul Wylezol, is Chairperson of the International Appalachian Trail and Cabox Aspiring UNESCO Global Geopark, Western Newfoundland. On Saturday morning he captured the imagination of a packed lecture room at the Birthplace museum as together we peered back through history but also looked forward to an idea of real potential for the future.
In 2018 it is the 250th anniversary of Cook's first great voyage to the Pacific in the Bark Endeavour but next year is the anniversary of a feat, much overlooked, one that showed Cook's prowess at surveying and also abilities to take charge of a ship. Therefore make him the runaway star contender to be the leader of that historic voyage.  In 2017 it is the 250th anniversary of Cook's pioneering survey of the whole of the coast of Newfoundland in 1767. Paul brought along copies of the charts that as well as being gobsmackingly accurate are also quite beautiful in their detail and finished composition. Unlike his later Pacific charts, Cook took his work back home with him to England and spent the winter months working up all his readings and sketches.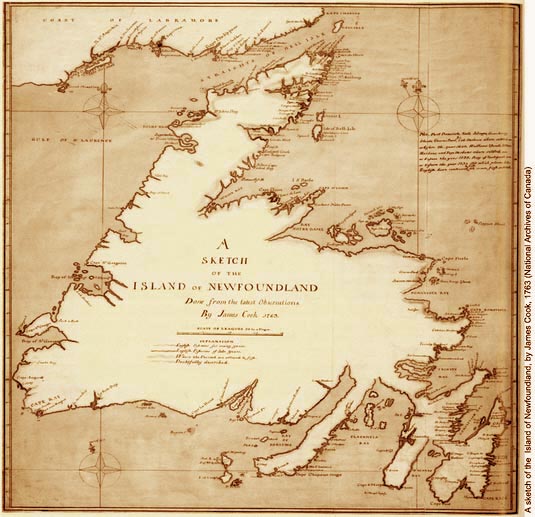 James Cook was mentored by Samuel Holland, the first surveyor general of North America. Incredibly quick on the uptake Cook mastered the art of surveying by plane table and triangulation and chart map making. The lad from Marton had a major role in guiding the Royal Navy up the treacherous course of the St Lawrence so that General Wolfe could scale the Heights of Abraham and catch out the French under Montcalm.
Although the British victory at Quebec was far reaching the war was still not over. In July 1762 the French attacked the important British cod fishing bases in south east Newfoundland but the British quickly took these back. By the Treaty of Paris in 1763 France retained small areas in south Newfoundland but gave up other claims to Canada. Realising the importance of having accurate charts of the coast, the Governor of Newfoundland commissioned Cook and others to produce them. For the next five years Cook surveyed the coast of Newfoundland during the summer periods, returning to Britain for the winters. In 1762-63 Cook surveyed the coast of Placentia, south east Newfoundland; 1763-64 north Newfoundland; 1765 south Newfoundland; 1766 southwest Newfoundland; and 1767 west Newfoundland. Cook returned to London in November 1767.
For more on the story, go to love middlesbrough blog.