The 250th anniversary of the momentous first Pacific voyage of one of the world's greatest explorers will be celebrated in Whitby, on the Yorkshire coast, over the weekend of 6-8 July, kick starting a series of nation-wide anniversary events.

View of the south bank of Whitby, below the ruins of Whitby Abbey 
James Cook learnt his trade as a seaman in Whitby and his famous vessel HM Bark Endeavour was built in Whitby. Now Whitby is preparing to push the boat out for the self-taught, son of a farm manager who grew up in the North York Moors National Park but made his name on the sea with ground-breaking achievements in cartography, the Newfoundland surveys, by observing an eclipse of the sun at his own initiative, and his sheer competence in captaining small ships.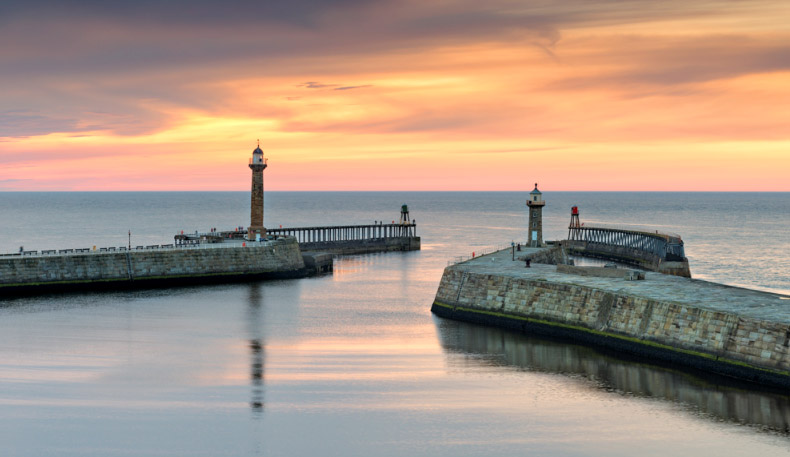 Entrance to Whitby Harbour
To mark 250 years since Cook set sail on his first voyage of discovery to the South Seas, a town-wide celebration, led by Scarborough Borough Council's Tourism Team, will see a host of events take place throughout the weekend with something to entertain and educate visitors of all ages from all four corners of the globe.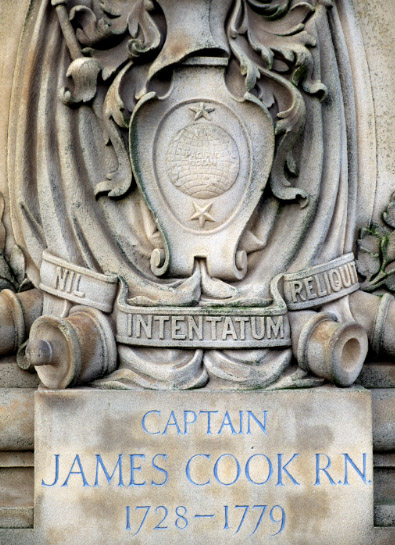 Cook Statue at Whitby (Photo by Tony Bartholomew)
Giving a feel for life at sea in the 18th century, two tall ships will take pride of place in Whitby's historic harbour especially for the festival and will be free for visitors to access. Maritime adventurers can step back in time and climb aboard the Spanish hand-built tall ship Atyla to experience life at sea, and re-live the Battle of Trafalgar on the smallest ship in Nelson's fleet, the replica warship topsail schooner, HMS Pickle. Visitors can also test their sea legs on board the Bark Endeavour Whitby, an authentic replica of Cook's HM Bark Endeavour 40% of the ship's original size, sailing from Whitby along the coast to nearby Sandsend.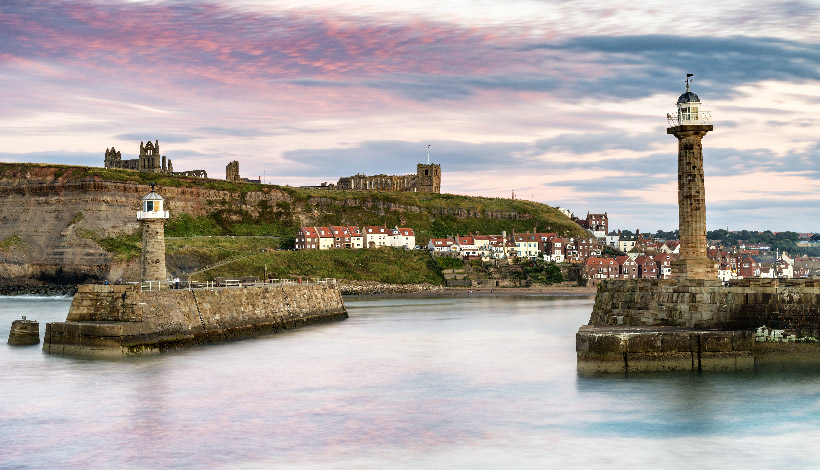 View of Whitby from harbour entrance (Photo by Richard Burdon)
Endeavour Wharf will become home to a live cooking theatre where local chefs will bring history to life, giving an 18th century twist to modern cuisine using food and produce that would have been eaten on board.
A new way to navigate and explore Whitby will be provided by the Cook "Tintamarresques Selfie" tour, which will comprise a series of cut-out Cook characters, located across the town. This tour is being created by Whitby Community College. Quotes by Cook and about Cook will also be posted about the town.
Whitby's 199 Steps, made famous by Bram Stoker's book Dracula
Additionally, throughout the weekend visitors will be able to enjoy live music, street theatre and sea shanties alongside local ales and a grand finale firework spectacular, as well as a spectacular
Maritime play to be held at Whitby Abbey. Whitby Abbey and Pannett Art Gallery will also be exhibiting maritime artwork and memorabilia throughout the weekend.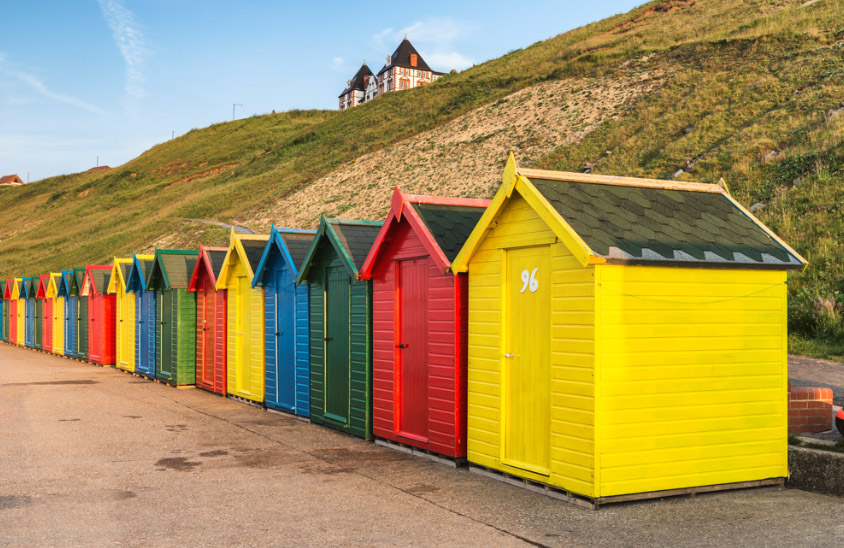 Janet Deacon, Tourism & Corporate Marketing Manager for Scarborough Borough Council and Area Director for Welcome To Yorkshire, says: "Whitby is still a place with an adventurous spirit where Cook would feel right at home and still has a strong boat building industry. Cook's great feats as an explorer, navigator and cartographer deserve to be celebrated and there's nowhere better than the Yorkshire Coast to discover more about Cook and his early life."
Charles Forgan from the Captain Cook Memorial Museum says: "In celebrating this 250th anniversary, we are celebrating a Yorkshireman whose unrivalled skill, continued self-improvement, perseverance and quiet ambition are an example to all and to future generations."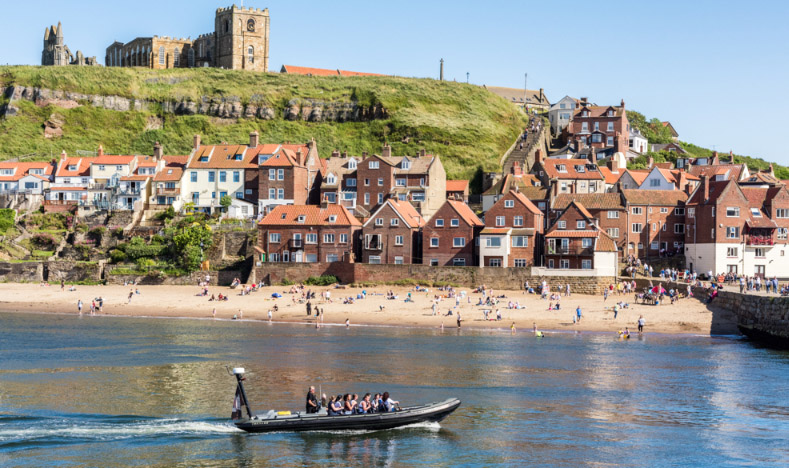 View of Whitby below St. Mary's Church and Whitby Abbey
Cllr Helen Mallory, Scarborough Borough Council Deputy Leader says: "The council is proud to be supporting the Captain Cook Festival and working with different community groups to make the event a fitting celebration of Cook's endeavours and his enduring impact on Whitby. It's shaping up to be an unmissable weekend for all the family and a fantastic addition to this year's Yorkshire Coast event calendar."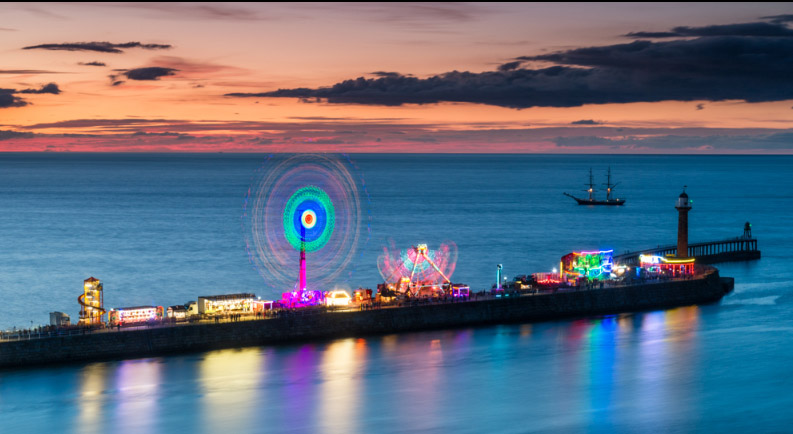 Whitby Harbour Pier (Photo by Richard Burdon)
Other ways to follow in James Cook's footsteps on the Yorkshire Coast and in the North York Moors National Park in this special anniversary year:
Visit the house where the young Cook served his apprenticeship in Whitby. It is now home to the Captain Cook Memorial Museum which tells the story of Cook's life from a young man to a great explorer, through evocative and personal collections, reconstructions and displays. Launching on 10 February 2018, is the museum's special 250th anniversary exhibition. 'Whitby in the Time of Cook, the making of a great seaman' explores why Whitby was a perfect location for young men with drive and ambition! Open daily from 10 February – 4 November 2018. Opening times: 11am-3pm 10 February to 24 March, and 9.45am-5pm 25 March to 4 November. Prices start at £3.50 for a child.
Whitby Abbey, an English Heritage site perched on the cliff tops, would have been used by Cook as a sailor's navigation point.
Go out to sea with Whitby Whale Watching and Whitby Coastal Cruises.
Literally walk in Cook's footsteps along the Cleveland Way National Trail between Whitby to Staithes, the coastal village where Cook reputedly fell in love with the sea. Or try the famous Captain Cook walk, a 7-miler around Roseberry Topping (the Yorkshire Matterhorn) and Cook's Monument, near Middlesbrough.
The North York Moors National Park WalkFest 2018 includes a six-mile long guided walk on 26 May from where the young Cook went to school in Great Ayton to the farm where his father worked in Little Ayton. This whole area is known as Captain Cook Country, so there's a good chance of following in Cook's footsteps on any footpath around the Whitby, Staithes and upper Moors area.
For more details about the festival visit http://www.discoveryorkshirecoast.com/whitby/Cook250 
this is the official Scarborough Borough Council's tourist board website for the Yorkshire Coast, promoting the famous holiday resorts of Whitby, Scarborough, Filey, Bridlington, the North York Moors National Park and the picturesque coastal villages dotted along the East Coast of England.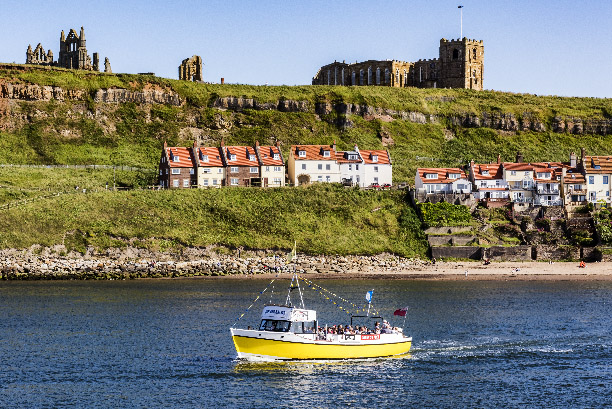 Boat departing Whitby Harbour
For more information and to book your stay, visit http://www.discoveryorkshirecoast.com or talk to the friendly, dedicated team at the Tourism Bureau on 01723 383636.
To find out more about the county of Yorkshire as a whole, visit http://www.yorkshire.com.
For further media information or photographs, or to request a press trip for James Cook's 250th anniversary, please contact:
Samantha Orange or Nicola Bexon
Pyper York Limited
Tel: 01904 500698
Email: sam@pyperyork.co.uk or nicola@pyperyork.co.u