A replica of Captain Cook's ship the Endeavour will sail to Ship Cove in the Marlborough Sounds, New Zealand as part of the 250th anniversary celebrations of the 18th century explorer's landing. 
The Marlborough District Council has budgeted $100,000 annually over five years in its draft annual plan towards celebrating the locally and nationally significant event.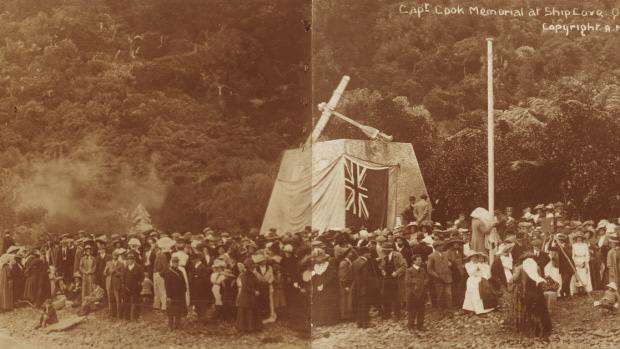 The unveiling of the Captain Cook monument in Ship Cove on February 10, 1913
Councillor Peter Jerram said the Endeavour would travel from its base in Sydney, where it is a major tourist attraction, to Ship Cove.
The Endeavour was likely to be in Ship Cove around Christmas and New Year of 2020.
Jerram said the 250th anniversary was a "rare opportunity".
"It's something that's only going to happen once in our adult life time. There are massive opportunities for Marlborough in the projects around it." 
Councillor Cynthia Brooks said celebrations would have long-term benefits for domestic and international tourism.
For more on the story, go to the Marlborough Express website.