250 years ago, Cook set sail from Plymouth. It wasn't until he was offshore that he was permitted to open a special package.
By TRENT DALTON, From Inquirer, August 26, 2018 reprinted for The Australian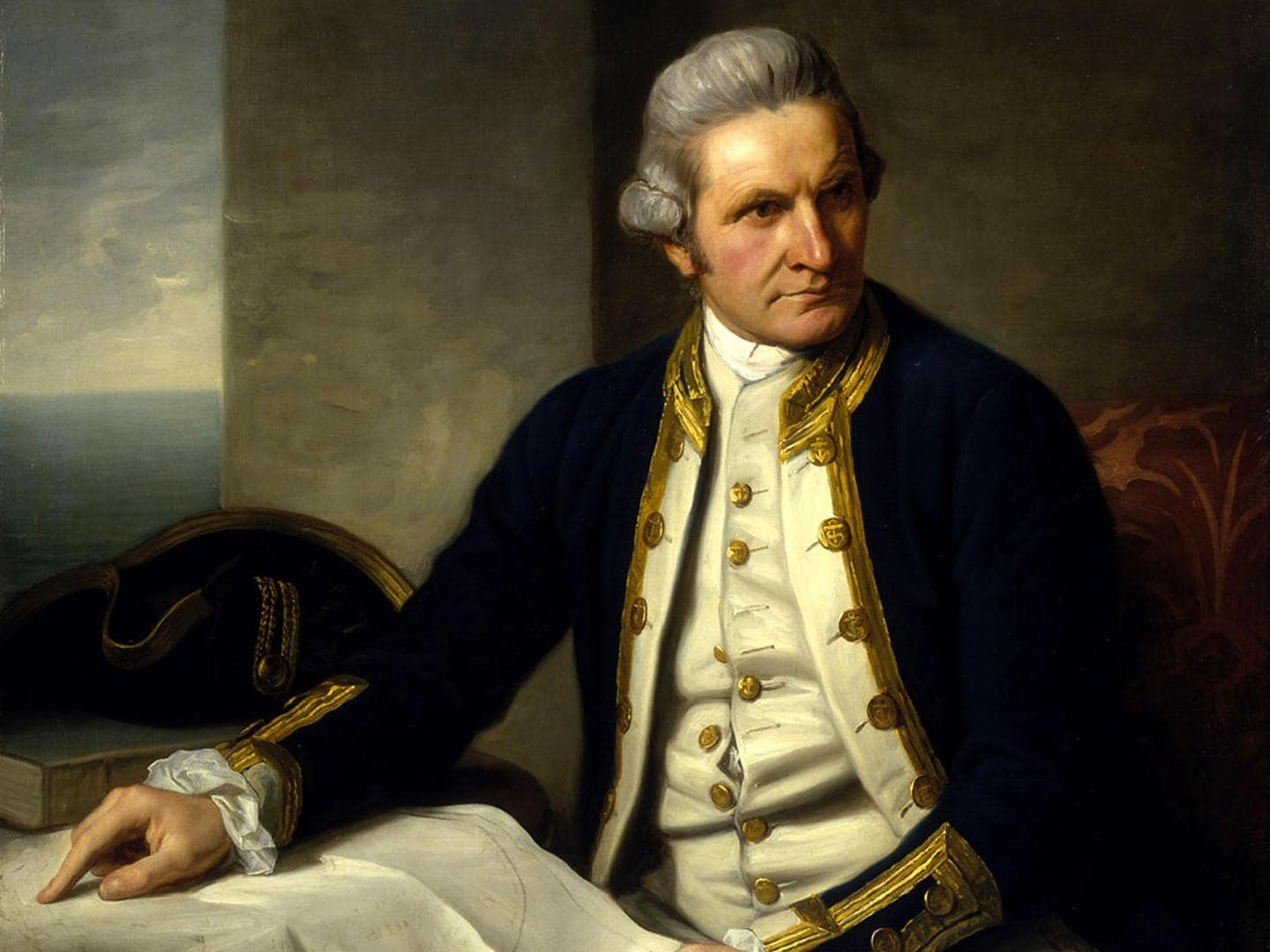 Captain James Cook (1728-1779) by Sir Nathaniel Dance-Holland, 1775, National Maritime Museum, Greenwich
Two hundred and fifty years ago today, Lieutenant James Cook sailed a 30m coal carrier named Endeavour out of Plymouth, England, plotting a course for wonder, immortality and a turquoise-edged, red-hearted paradise we'd come to call Australia. There should have been fireworks that day; angel-voiced choristers and a hundred stout men with snare drums lining the Plymouth dockyards. London's most romantic poets should have set their red wine bottles aside and trekked south to Devon to see that Yorkshireman with their own clear eyes; to see and to remember that indefatigable, unsinkable flat-bottomed bark on the first day of a three-year voyage of discovery that would destroy and expand our notions of the third planet from the sun. Cook — that relentless pragmatist — never quite conveyed the grandeur of these moments as he made them.
"At 2pm got under sail and put to sea having on board 94 persons including officers, seamen, gentlemen and their servants, near 18 months provisions, 10 carriage guns, 12 swivels with good store of ammunition, and stores of all kinds," he wrote in his account of what were most likely the events of August 25, 1768, though dated August 26 in his journal.
No mention of his brittle hope and his rising fear. No mention of his mission: to sail across a vast blue Pacific to study and observe the 1769 transit of Venus from the island of Tahiti as it passed across the sun. No mention of his secret destination: all of us. Modern Australia. The mapping of the long east coast of a great southern land that 25 million people from all corners of the globe would get to wake up to on this Saturday morning, August 25, 2018.
Thousands more giddy onlookers might have gathered around Plymouth harbour to say goodbye that day had they known what Cook was capable of. The self-made man. The visionary. The hardened and gifted seaman who had mapped the jagged cliff coastlines of Newfoundland with an accuracy bordering on the obsessive. Daylight fireworks of royal gold might have showered Plymouth Sound had the world known that Endeavour would return almost three years later carrying world-altering knowledge of navigation, mathematics, geology, geography, botany, psychology, nutrition, astronomy, medicine, cartography, languages and those wild new lands at the end of the earth.
But Cook was humble. It would take 250 years for the modern world to summarize his work ethic: under-promise, over-deliver.
"First part fresh breeze and cloudy, remainder little wind and clear," noted Cook, the grocery boy from Whitby done real good.
That day deserved a poet's pen, a hand deft enough to immortalise the blow of the northwest breeze and the way air filled Endeavour's sails in the same way the girls of Drury Lane could fill the bust of a dress; how small Endeavour seemed for such an epic voyage, quickly shrinking to a dot at sea as it carved its way towards Rio de Janeiro, three months' sail southward; all that anticipation and all that salt in the air; the pumping blood in the veins of the crew's carpenters and cooks, sailmakers and armourers, quartermasters and marines; the way fate brought these men together — from England, Wales, Ireland, Sweden, even one man from New York — and the way providence, and a razor-sharp commander, would keep most of them alive long enough to see the shores of England once more.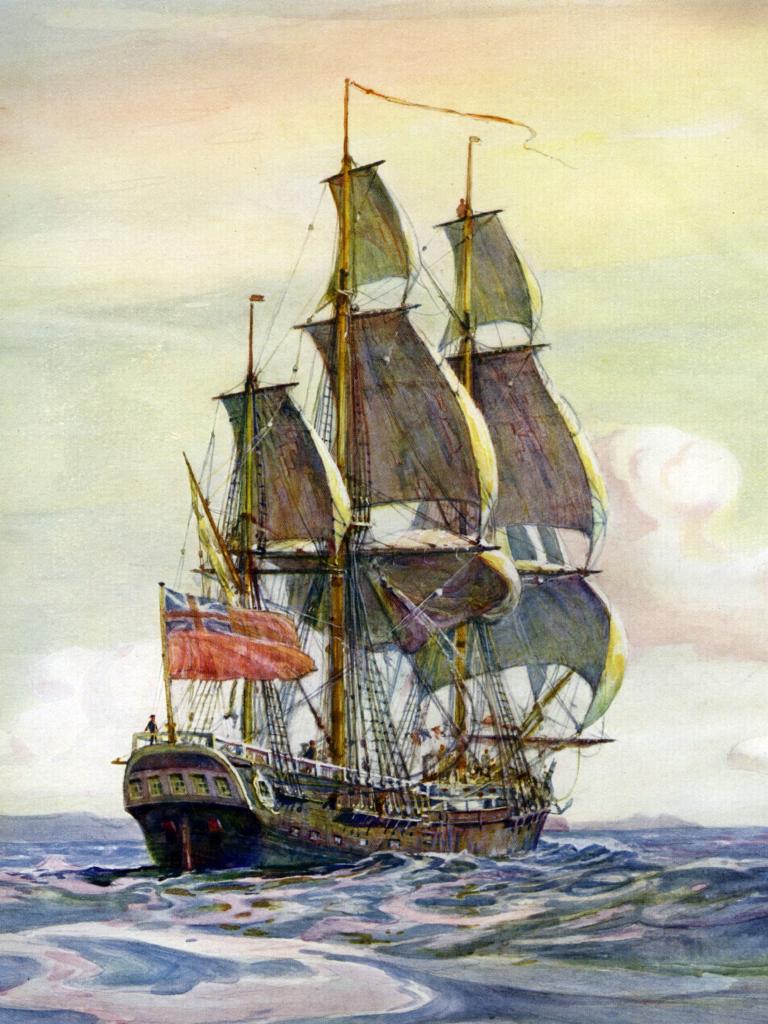 HMS Endeavour, British Navy research vessel commanded by James Cook 1769-1771.  By Gregory Robinson
"It's funny because we now know how momentous that voyage was but it would have seemed a much more mundane voyage at that point of departure," says maritime historian Nigel Erskine, picturing the Endeavour sailing out of Plymouth 250 years ago from the comfort of his office in the Australian National Maritime Museum, a short walk from an inch-perfect Endeavour replica parked in Sydney Harbour. "I don't think anybody realised what the ultimate results would be. I mean, they were full of anticipation and the naturalists like ­Joseph Banks and Daniel Solander were focused on botany and the grand adventure of the whole thing but, compared to what we know about it now, it would have seemed much more mundane.
"There had been a number of people up to that point who had gone into the Pacific but had not achieved very much at all. This could easily have been just another less than successful voyage into the Pacific. Cook was unknown at this point. He'd done good service in Newfoundland but he didn't actually have much of a reputation.
"Cook's secondary orders — his so-called secret orders — were not known to anybody else at that time apart from him and, in fact, he wasn't allowed to open them until he got offshore."
Now there's one hell of a scene for every Australian to ponder this weekend: Cook in his cramped quarters below deck of the Endeavour unfurling his secret secondary mission orders from the British Admiralty, penned July 30, 1768. Picture his face as he reads. Maybe that 18th-century hipster marvel Banks is standing close by. Maybe it's evening and that face is lit up by the light of a whale oil lamp.
"A modest man, and rather bashful; of an agreeable lively conversation, sensible and intelligent," wrote David Samwell, a naval surgeon and poet who would later join Cook on his mighty Resolution voyage of 1778. "His person was above six feet high: and, though a good-looking man, he was plain both in dress and appearance. His face was full of expression: his nose extremely well shaped: his eyes, which were small and of a brown cast, were quick and piercing; his eyebrows prominent, which gave his countenance altogether an air of austerity."
The weight of these orders squeezing down on him in this moment, the consequences of them; what they mean for 93 men whose lives are in his hands; what they mean for the Dharawal people of that glorious land we now call Sydney who he'll encounter almost two years from now when he makes a series of careful steps across the Kurnell shoreline; what these orders mean for every Australian schoolkid in 2018 — from Broome to Ballarat to Bamaga — who picks up a pencil and attempts to write their perspective on the birth of modern Australia.
Whereas there is reason to imagine that a Continent or Land of great extent may be found to the Southward of the Tract lately made by Captn Wallis in His Majesty's Ship the Dolphin (of which you will herewith receive a Copy) or of the Tract of any former Navigators in Pursuit of the like kind, You are therefore in Pursuance of His Majesty's Pleasure hereby requir'd and directed to put to Sea with the Bark you Command so soon as the Observation of the Transit of the Planet Venus shall be finished and observe the following Instructions. You are to proceed to the Southward in order to make discovery of the Continent abovementioned until' you arrive in the Latitude of 40°, unless you sooner fall in with it. But not having discover'd it or any Evident sign of it in that Run you are to proceed in search of it to the Westward between the Latitude beforementioned and the Latitude of 35° until' you discover it, or fall in with the Eastern side of the Land discover'd by Tasman and now called New Zeland. If you discover the Continent abovementioned either in your Run to the Southward or to the Westward as above directed, You are to employ yourself diligently in exploring as great an Extent of the Coast as you can, carefully observing the true situation thereof both in Latitude and Longitude, the Variation of the Needle; bearings of Head Lands Height ­direction and Course of the Tides and Currents, Depths and Soundings of the Sea, Shoals, Rocks and also surveying and making Charts, and taking Views of Such Bays, Harbours and Parts of the Coasts as may be useful to Navigation. You are also carefully to observe the Nature of the Soil, and the Products thereof; the Beasts and Fowls that inhabit or frequent it, the Fishes that are to be found in the Rivers or upon the Coast and in what Plenty, and in Case you find any Mines, Minerals, or valuable Stones you are to bring home Specimens of each, as also such Specimens of the Seeds of the Trees, Fruits and Grains as you may be able to collect, and Transmit them to our Secretary that We may cause proper Examination and Experiments to be made of them. You are likewise to observe the Genius, Temper, Disposition and Number of the Natives, if there be any, and endeavour by all proper means to cultivate a Friendship and Alliance with them, making them presents of such Trifles as they may Value, inviting them to Traffick, and Shewing them every kind of Civility and Regard; taking Care however not to suffer yourself to be surprized by them, but to be always upon your guard against any Accidents. You are also with the Consent of the Natives to take Possession of Convenient Situations in the Country in the Name of the King of Great Britain: Or: if you find the Country uninhabited take Possession for his Majesty by setting up Proper Marks and Inscriptions, as first discoverers and possessors.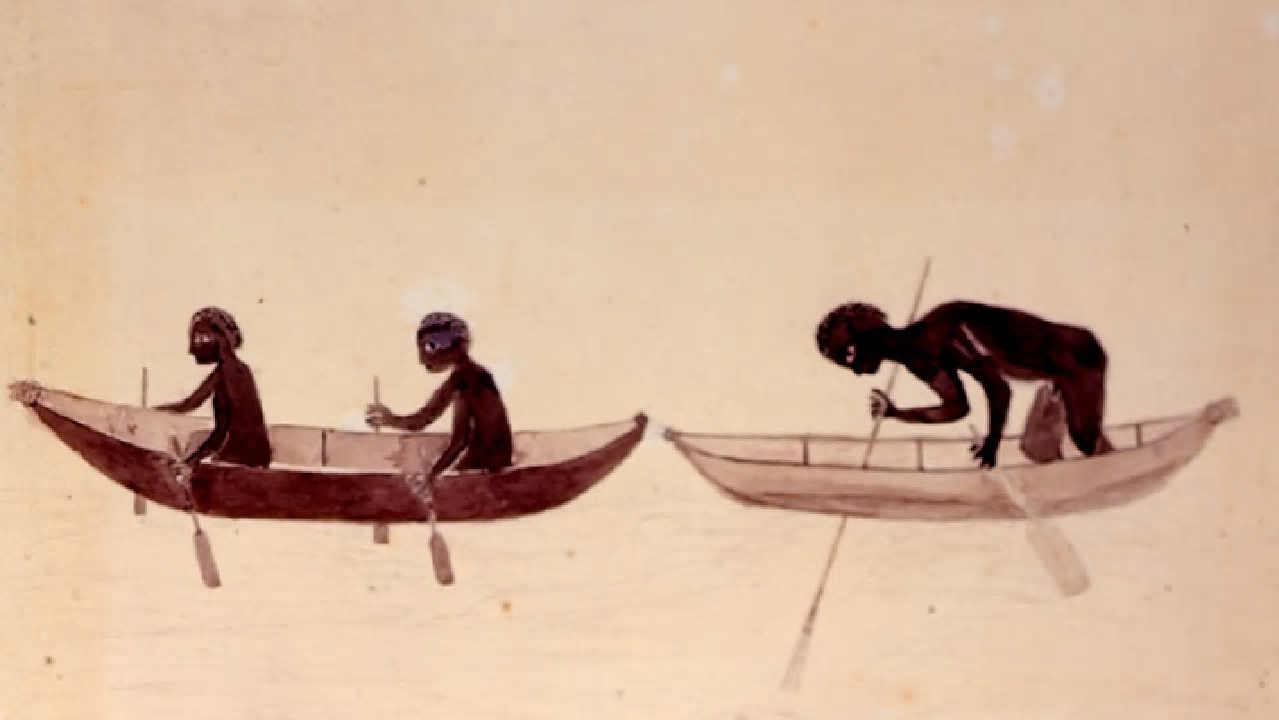 Possible record by Joseph Banks of a fishing party at Botany Bay
Reason to imagine that a continent or land of great extent may be found. There was still so much doubt as to what indeed could be found so far down under. Still so much mystery. Some on board believed a vast super landmass waited for them in the south, a magical land of new life, new spices and minerals; a geological counterpoise to all that land in the north.
But Cook was bright enough to know volumes of water can weigh as much as measures of dirt. His final destination was a place he could not be entirely sure existed. And still he sailed to it, storing his quiet faith inside his own navigational gifts and inside his sturdy vessel which, in 1992, would be a fully appropriate namesake for the intrepid 25-mission NASA space shuttle Endeavour. Cook's deep and unknown blue Pacific might as well have been his deep space. Historians and academics today like to compare Cook's voyage of discovery of '68 with the moon landing of '69 but at least those mighty moonwalkers were certain of where they were heading — they only had to tilt their heads up after sundown.
"And with the moon shot there was much greater certainty of success," Erskine says. "They had led up to it through a number of previous orbits and trips out into space. There were so many firsts on the Endeavour voyage. It was the first time that they tried to use colliers. And they're using only one collier, which they'd realise was a stupid thing to do. You ­always had to have a back-up ship. There was a whole range of things that could have gone wrong and those looking back on it now rightfully hold it in a much different light to how those who were on shore did watching that vessel disappear out of Plymouth."
'I think it is really important to acknowledge and value the navigational feat and the scientific achievement and also what actually happened at that time and the impact it had on indigenous people'   – Ian Coates, head of the Endeavour 250 project
That day at Plymouth — August 25, 1768 — preceded two years and 11 months at sea for Cook and his crew. The Endeavour left those shores and travelled 30,000 miles around a largely unknown hemisphere charting more than 5000 miles of coastline, hauling 20 tonnes of biscuits and flour, 1200 gallons of beer, 1600 gallons of spirits, 4000 pieces of salted beef, 6000 pieces of salted pork and 7860 pounds of disease-fighting sauerkraut.
"An amazing navigational feat," says Ian Coates, head of the National Museum of Australia's Endeavour 250 project, which will culminate in a major exhibition in 2020 exploring the national and global impact of Cook's voyage of discovery. "Going that far and charting so much land that really had not been seen by Europeans. The scientific legacy of it, the botanical knowledge. For me, what is striking is thinking about the mix of hopes and ambitions held by those on board. For Cook, the challenge of a complex navigational task, including the filling in of the map between Cape York and Tasmania. For (astronomer) Charles Green the responsibilities of the astronomical task at Tahiti."
Accurate readings of Venus passing the sun would help determine the "astronomical unit" — a unit of length roughly the distance from the Earth to the sun — which, in turn, would help 18th-century navigators calculate the observer's all-important and oft-elusive longitude.
"For Banks and Solander, the promise of taking back new natural history knowledge," Coates says. "Not to mention the unknown dreams and desires of the rest of the crew. And, of course, the things they didn't and couldn't know. The places and people they would encounter — new sounds, smells and tastes. And the enormous changes to these places and these people that would stem from the voyage."
Canberra-based maritime historian Trevor Lipscombe will be commemorating Endeavour's departure this weekend in Mallacoota, Victoria, where he will present a public talk on the Restoring Cook's Legacy 2020 project, which aims to correct potential inaccuracies on modern maps that he believes show several land features and landmarks named by Cook in incorrect places, the most contentious being that the first Australian land Cook saw was not Point Hicks in southern Victoria, as history records, but Little Rame Head, south of Mallacoota.
When Lipscombe thinks of Cook sailing out of Plymouth that day he thinks of Australian values in 2018.
"It was a very humane voyage," he says. "Humane and respectful. In many respects this was a very modern voyage, in terms of the people on board and their views. They were the true Enlightenment men. The values Cook was espousing then, 250 years ago, are the Australian values we cherish today. That generosity of spirit. A fair go, 'You're as good as I am, mate.' It all comes from there."
Lipscombe was moved to read aloud the historic Royal Society "hints" given to Cook by Society president James Douglas, earl of Morton, before departure.
To exercise the utmost patience and forbearance with respect to the natives of the several lands where the ship may touch. To check the petulance of the sailors, and restrain the wanton use of fire arms. To have it still in view that shedding the blood of those people is a crime of the highest nature. They are human creatures, the work of the same omnipotent author, equally under His care with the most polished European; perhaps being less ­offensive, more entitled to his favour … should they in a hostile manner oppose the landing and kill some men in the attempt, even this would hardly justify firing upon them until every other gentle method had been tried.
"Now, how about that?" says Lipscombe. "That's staggering. Cook gets some bad press but one of the reasons he was actually sent on the voyage was because he was a guy who always carried out his orders. He would have read those hints and taken them to heart."
For more on Trent Dalton's article, go to The Australian website.