On 23rd May 1770, Lieutenant James Cook in command of the HM Bark Endeavour, rounded the headland, entered and anchored in the bay, which he subsequently named Bustard Bay.  The following morning, Cook accompanied by Joseph Banks and Dr Daniel Solander came ashore and made their first landing at what is now known as the state of Queensland.  This was only their second landing in Australia. Cook's landing spot at Bustard Bay was in the vicinity of the present day Town of 1770.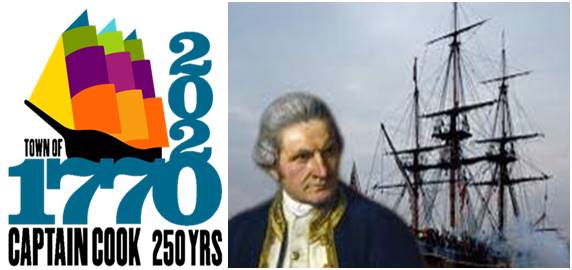 The year 2020 marks the 250th anniversary of Cook's exploration of the east coast of Australia and the nation will be celebrating. Our community of Town of 1770/Agnes Water will take part in the national celebrations and the Cook 250 in 1770 team, has been assembled to oversee this momentous event.
Celebrations will include a visit from the HMB Endeavour replica, through the National Cook 250 Program, which is being managed out of the National Maritime Museum in Sydney.
Leading up to the celebrations in 2020, the Cook 250 in 1770 project team have 3 major projects under consideration which will provide a lasting legacy in our community.  The projects include a monument at the Seventeen Seventy headland; a botanic parkland and an interpretive centre featuring indigenous culture and art gallery.
Our aim is to raise funds to develop concepts and plans to enable application for project approval with the necessary authorities.
How the funds will be used
Funds will be used to develop project concept development and design.
What makes this project special
Cook's landing place is a place of National significance.  Town of 1770 has a special association with the work of Lt James Cook, Joseph Banks and fellow scientists of the HMB Endeavour, whose voyage of exploration along the eastern coast of Australia in 1770, transformed the future of the Australian continent and its Indigenous peoples.   Our 2020 projects will provide a lasting legacy and showcase to the world the significance of our local  history, indigenous culture and botanical importance of Cook's landing.
This project will be successful when…
The Cook 250 in 1770 project team is seeking to raise enough funds to complete project concept planning.  This will enable application for project development to the necessary authorities.
How can you help?
Your pledge is important to us and will allow our team to progress these important and significant projects towards our goal of showcasing to the world, our local history, our cultural heritage and our unique environment.
To learn more or contrribute, go to Communities Cook250in1770